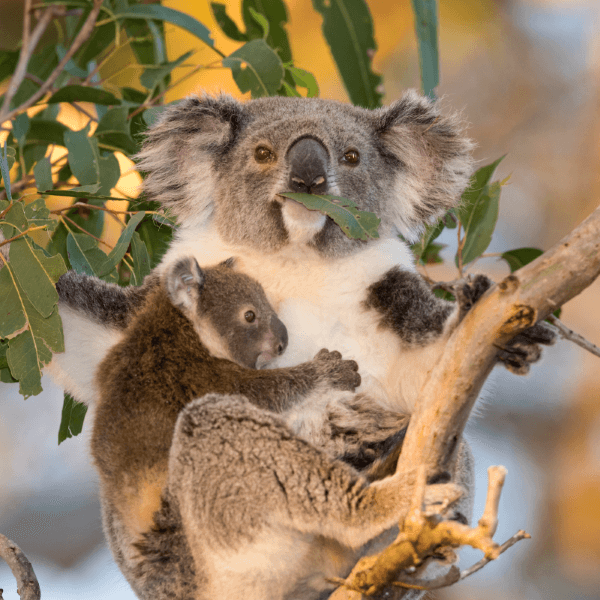 How taking climate action builds koala habitat
Greenfleet has been building habitat for koalas and other wildlife for nearly a quarter of a century through our reforestation work.
While our focus is on growing our forests to protect our climate, another important benefit of the work we do is restoring and extending habitat for native wildlife across Australia and New Zealand. This is important for all species but, since the devastating impact of the Black Summer bushfires, particularly for our beloved koalas.
Already listed as vulnerable in some Australian states, koalas could be extinct by 2050 if urgent action is not taken to protect them.
Since 1997, Greenfleet has planted 10 million native trees across 500 forests and many of these forests are specifically extending habitat for koalas across Queensland, New South Wales and Victoria. Legally protected for up to 100 years, these forests will grow to help current and future populations of koalas thrive.
Read below a handful of Greenfleet projects that are building habitat for koalas.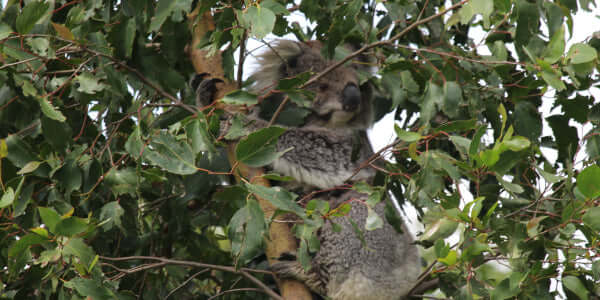 Wurneet Laang Laang
Located in South Gippsland, on land traditionally owned by the Boon Wurrung people, Greenfleet has been revegetating Wurneet Laang Laang since 2016.
More than 60,000 native trees have been planted and some of the endemic species chosen include Swamp Paperbark (Melaleuca ericafolia), Wooly Tea-Tree (Leptospermum lanigerium) and Mountain Grey Gum (Eucalyptus cypellocarpa).
Within only 5 years some of the trees have grown over 10 metres tall and the area's Strzelecki Koalas (pictured) have started calling the Greenfleet trees home. 
You can read more about Wurneet Laang Laang here.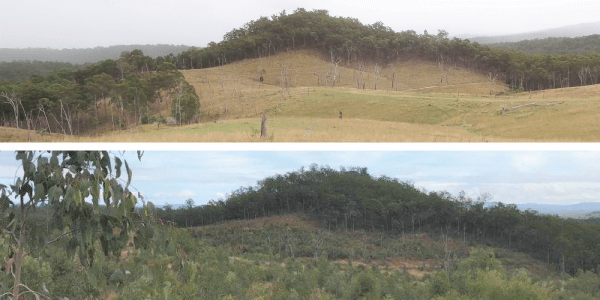 Koala Crossing
In South East Queensland, Koala Crossing is a property playing an important part in reconnecting habitat corridors. Greenfleet has been helping revegetate this property since 2019 by planting over 90,000 trees.
More than thirty different endemic species have been planted including the Queensland Blue Gum (Eucalyptus terticornis), which is a preferred food source for koalas, insects and birds. Over their lifetime, these trees can grow up to 50 metres tall with a trunk diameter of up to 2 metres making them an important addition to a project growing koala habitat.
Since the project began, koala populations have increased across the property, and we expect they will be specifically utilising areas revegetated by Greenfleet soon.
Read more about Koala Crossing here.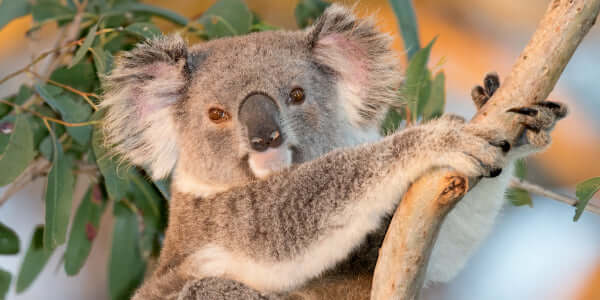 Greentrees
In Northern NSW, Greentrees is a property sitting between existing pockets of koala habitat. By planting native trees across this piece of land, Greenfleet is reconnecting their habitat so that a wider area of forest can be home to these animals.
There are existing healthy populations of koalas in this region and the landholder has identified at least 15 individual koalas living in the area's remnant vegetation. By planting trees that are native and endemic to this part of NSW we will support the expansion and sustainability of a key breeding koala population.
Read more about Greentrees here. 
Dangerbridge
Dangerbridge is an integrated revegetation and grazing property, located just north of Noosa on land traditionally owned by the Kabi Kabi people.
In 2021 Greenfleet,  Queensland Trust for Nature (QTFN), Noosa & District Landcare, and the Koala Habitat Restoration Project revegetated an additional 57 hectares. Another 11 hectares have also been managed for assisted natural regeneration, including planting and ongoing weed control. This work will be key in preserving and extending habitat for our iconic koalas.
In early 2021, Noosa Landcare and QTFN worked to release a koala, Billi, into the native forest at Dangerbridge. By releasing Billi in an area where Greenfleet has established native vegetation, Billi will be able to find a long-term home in this protected forest. You can see Billi's story in the video below. Read more about Dangerbridge here.
These projects and many of our upcoming projects will be pivotal in providing homes and food sources for current and future populations of koalas and we are thrilled to be aiding in their protection. These forests will also capture tens of thousands of tonnes of CO2-e over their lifetime to offset the emissions of our supporters.
By supporting Greenfleet, you can also play a part in growing climate hope and building homes for koalas.