Greenfleet is a leading environmental not-for-profit organisation focused on protecting our climate by restoring our forests. Since 1997, we have planted 10.5 million trees across 550 forests in Australia and New Zealand.
Our plantings play a critical role in fighting the impacts of climate change by removing carbon emissions from the atmosphere. The forests we have planted so far will capture more than 4.4 million tonnes of CO2-e over their lifetime. 
Our forests also provide critical habitat for our native species. In the last few years, we have planted hundreds of hectares of protected habitat for our koalas and this is particularly important as koalas have recently been reclassified to Endangered in New South Wales, ACT and Queensland.
We ensure that our forests are legally protected for up to 100 years so that they can grow to their full potential and have a long-term, positive impact on our climate and planet. Greenfleet has been delivering climate action for over 25 years and we are proud to have you with us as we grow our forests and grow climate hope.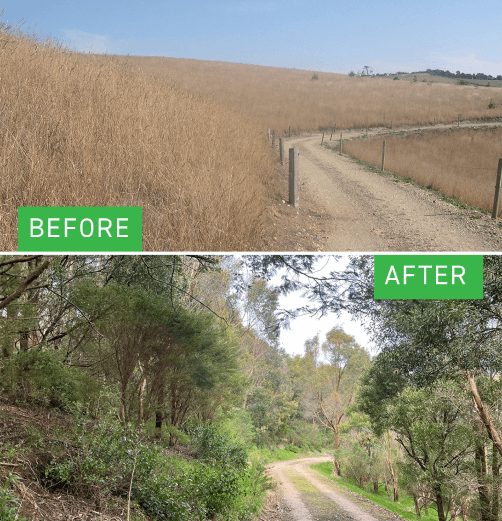 How does Greenfleet work?
Greenfleet is fully funded by over 650 organisations and thousands of individuals, that donate and offset their emissions. By taking climate action with Greenfleet, you've joined a community of like-minded people committed to making a difference.  
When you offset your emissions with Greenfleet, you are directly supporting the restoration of legally protected native forests that will grow to remove your emissions over their lifetime. While this helps minimise your own carbon footprint, your support also has wide-reaching benefits for the environment, for biodiversity, and for native wildlife.
What's happening at Greenfleet right now?
Across Australia, our planting seasons change state to state but generally range from March to August each year. In 2023, we have continued to deliver climate action with reforestation projects in Victoria, Queensland and South Australia. 
By planting native forests now, we are paving the way for a healthier planet for generations to come. Thank you for supporting the work that Greenfleet does and for taking critical climate action with us.
Together, we are growing our forests and climate hope.